Software Licensing: Subscription Management Trend 2022
By Stefan Schwarz
The trend continues – licensing models will also be in high demand in 2022
The market for software licensing and monetization is on the move. New subscription models, some built on new technologies or enabled by monetization opportunities such as blockchain, continue to lead the way. Thales sees a boost to this trend in their daily business. The Subscription Industry Report 2021 from billwerk also illustrates this view: the CAGR (Compound Annual Growth Rate) shows a growth of 117 percent for the DACH region in 2020. So are the days of perpetual licensing numbered?
Perpetual-Licensing vs. Subscription Software-Licensing
Perpetual licenses, unlike subscription licenses, are paid in one large lump sum. Fees for maintenance, support & upgrades are not included and can therefore lead to unexpected surprises regarding the price. On the other hand, with subscription software licensing such items are billed on an annual or monthly basis and represent an ongoing subscription – with no hidden costs at all.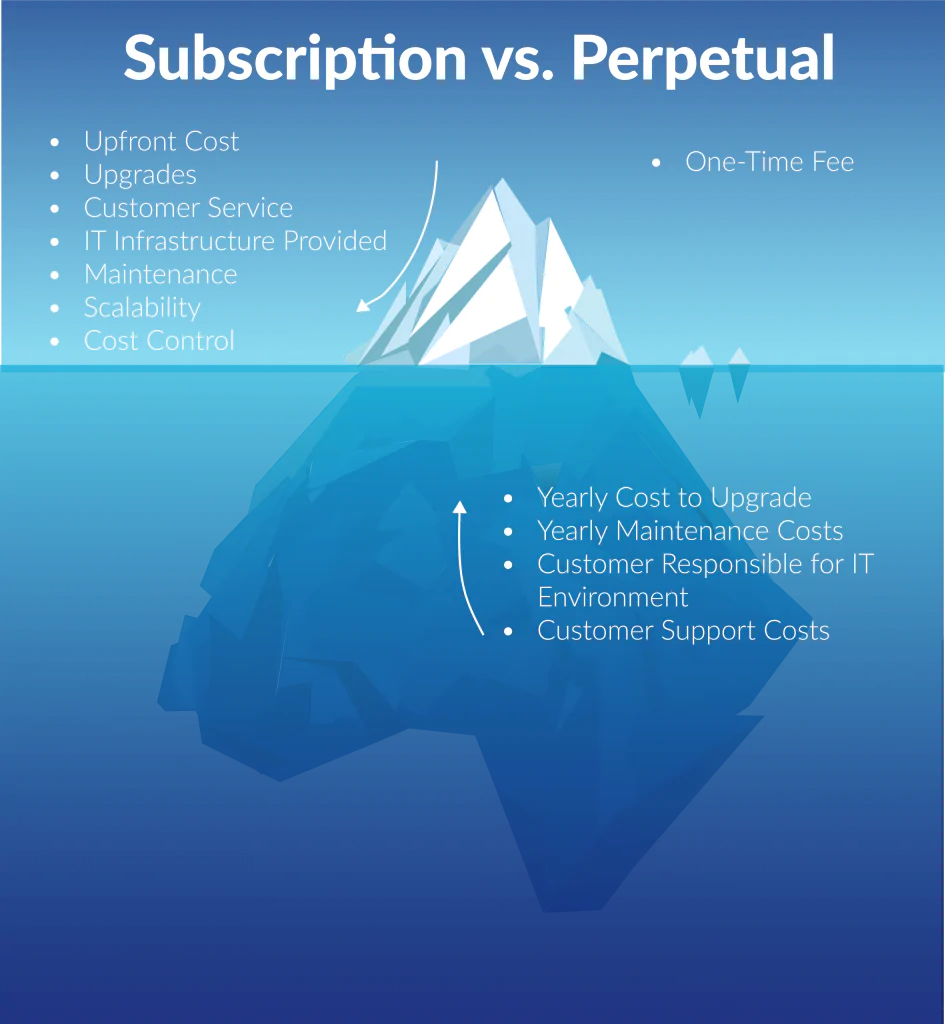 Trend Subscription Software Licensing – benefits at a glance:
Cost control
Flexibility
Scalability
Planability
Increased customer loyalty
Speed
Security
Cost control
By using subscription licenses, customers can plan with low initial costs because the licenses are ongoing assets that are billed over time. In addition, the cost assets are transparent and predictable. Maintenance, upgrade, support and renewal costs are included in the license fee, and services do not simply expire after a certain number of years. For vendors, subscription software licensing enables a steady and predictable inflow of revenue.
Flexibility and scalability
Subscription-based software licensing offers far greater flexibility to both the vendor and the customer, which is a great advantage. Vendors can easily offer multiple levels of service; in turn, customers can decide which subscription model best suits their needs. The scalability of the subscription solution gives businesses the flexibility to grow. Subscription models can be upgraded or downgraded as customer requirements change, and new functionality can also be developed on-the-go.
Increased customer loyalty
A sustainable and trust-based customer relationship with high customer lifetime value (CLV) is essential in the age of digitalization, because it has never been easier to find comparable alternatives than nowadays. Subscription software licensing enables a long and close customer relationship between vendor and customer. Providers can respond better to customer requests and implement customer wishes faster and more precisely.
Speed & security
Subscription providers that also use a cloud or a SaaS model can quickly innovate and bring new services to the market. The "go-to-market" is agile and enables immediate customer feedback. Subscription models also offer better security and a more stable IT environment. In this model, the software is hosted on the provider's servers. A win-win situation for provider and customer.
Find out more about billwerk & scale your growth
Automate your subscription business model with billwerk Subscription Management & Recurring Billing.

Book a demo
Conclusion
The licensing experts at Thales assume that subscription-based licensing models will represent the dominant business models in the future. Perpetual licenses will play a rather subordinate role in the future – in addition to subscription software licensing.
More about Stefan Schwarz
BIO
Stefan Schwarz is Senior Field Marketing Manager in the DACH region at Thales Group. The marketing expert brings many years of experience from the software sector. Since 2012, he has been supporting Thales (Gemalto) in consolidating its standing in the DACH region.
Stefan Schwarz on LinkedIn.
More about Thales Sentinel
Product
Thales Sentinel is the world's leading software licensing, deployment and protection brand. The Sentinel product portfolio helps customers unlock new revenue streams, improve operational efficiencies, increase customer satisfaction and gain valuable business insights. Built on award-winning technology, Sentinel has a strong global customer base with over 10,000 customers in 30 industries in over 100 countries.