Live shopping: 7 benefits you can't ignore
We're guessing that you've heard about live shopping. The trend is on everyone's lips – and with good reason. It has taken the entire world by storm, to say the least, and the trend has proven not to be a passing fad. Read on to learn why live shopping has become so popular and find out if it's a strategy that fits your business. (Hint: If you're a brand or retailer, it most likely does.)
Live shopping 101
Let's get down to basics and sort out what live shopping is.
First of all, it goes by many names such as live shopping, live selling, live commerce, social selling, and the list goes on. But no matter what you call it, it describes the act of selling goods through live, shoppable videos online on social media, your own online store, or other channels. Viewers can place an order by writing it in a comment and ask questions in the comment field that hosts can answer immediately. It combines the personal shopping experience from physical stores with the convenience of online shopping.
And for brands and retailers, the results are worth going for: An increase in revenue, massive exposure on social media, and a strengthened, personal bond with customers. But we'll get to the benefits.
Though live shopping is a rather new concept, it has come to stay. Tech giants such as Amazon, TikTok, YouTube, Pinterest, Meta, and Twitter are all investing in live shopping, and that's a very big deal to say the least. It proves that live shopping is on an upward path, not going down any time soon.
"Just three years ago this [livestream shopping] was almost nonexistent in the west, and was a small segment of commerce, just 3.5% of all retail e-commerce, in China. Last year it was a $300 billion segment in China at just under 12% of retail sales, and in 2023, eMarketer estimates it will be 19.4% and worth over $600 billion. The corresponding numbers in the U.S. are $11 billion this year and growth to $25 billion by 2023." (Analysis in Forbes, 2022.)
What's the fuzz all about?
There are many pros when discussing live selling from a brand's perspective, not that many cons. But do you really know why the concept is so beloved by brands and retailer all over the world? Here, we will introduce you to 7 benefits of live selling that proves the point. So, without further ado, let's dive in.
#1 You can stand out from your competitors
As a brand and retailer, one of your most important tasks is to stand out from your competitors. This is the road to gaining market shares and gaining customers.
With live sales, you provide your viewers with valuable content, an easy and convenient way of shopping, entertainment, knowledge, and a personal shopping experience. And trust us when we say that consumers don't forget easily. If you give them a unique and positive experience, they'll be coming back for more. You will be top-of-mind.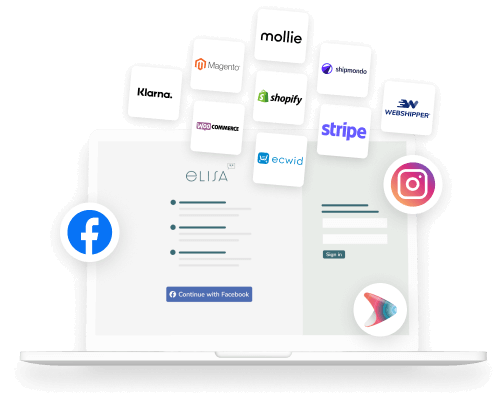 #2 You can add a new sales channel to your business
Implementing live sales means that you're adding a completely new sales channel. Sounds sweet, right? What we mean by this is that you are not just moving sales from one platform to another, you're gaining new customers and increasing revenue.
In other words, live selling has the potential to boost your business tremendously. Instead of fighting to direct potential customers from social media to your online store, you can sell to them directly on your social channels. All it takes for the viewers is a single comment.
#3 You can build a larger or more loyal customer base
When you host live shows on social media, the algorithms work in your favour. Since you stream live video content with a lot of engagement, your video will be exposed widely. This means that more people will be introduced to your brand for the very first time due to live shopping and that they will be intrigued by your valuable and entertaining content. They might just make a purchase too.
Hosting regular live shows will build your customer base and this will naturally boost your sales. And the best part is that it doesn't require any spend on ads.
#4 Lower your return rate
When you run an online store, you know the struggle of returns. They are expensive and time-consuming, but they are also very hard to avoid. But with live selling, you can lower your return rate. How so?
Compared to looking at an image and reading a short product description, you can inform your customers way better during a live show. By showcasing the product "in action" and from different angles while explaining it in detail, your viewers make a purchase on a very solid foundation. This means that they are less likely to be disappointed when receiving the product. Not only does it lower your return rate, but it also increases customer satisfaction.
#5 Create a personal relationship with your customers
Online shopping is a never-ending stream of products, products, and more products. Consumers have access to any product in the world, and this has resulted in the search for something more. Today, consumers are not just buying products, they are looking for brands and people they trust. Authenticity is more important than ever, and your potential customers want to interact with real people.
Live commerce is an effective and simple way of putting a face on your brand. Viewers can interact with you and experience the essence of your brand through a person. The results: Customers will return again and again, when they have a relationship with you and your brand. Getting to know your customers is good for business indeed.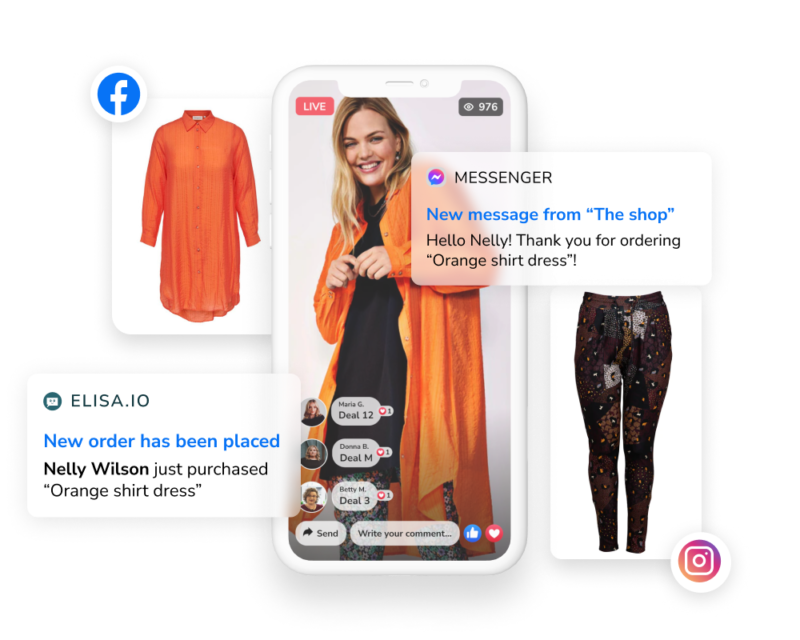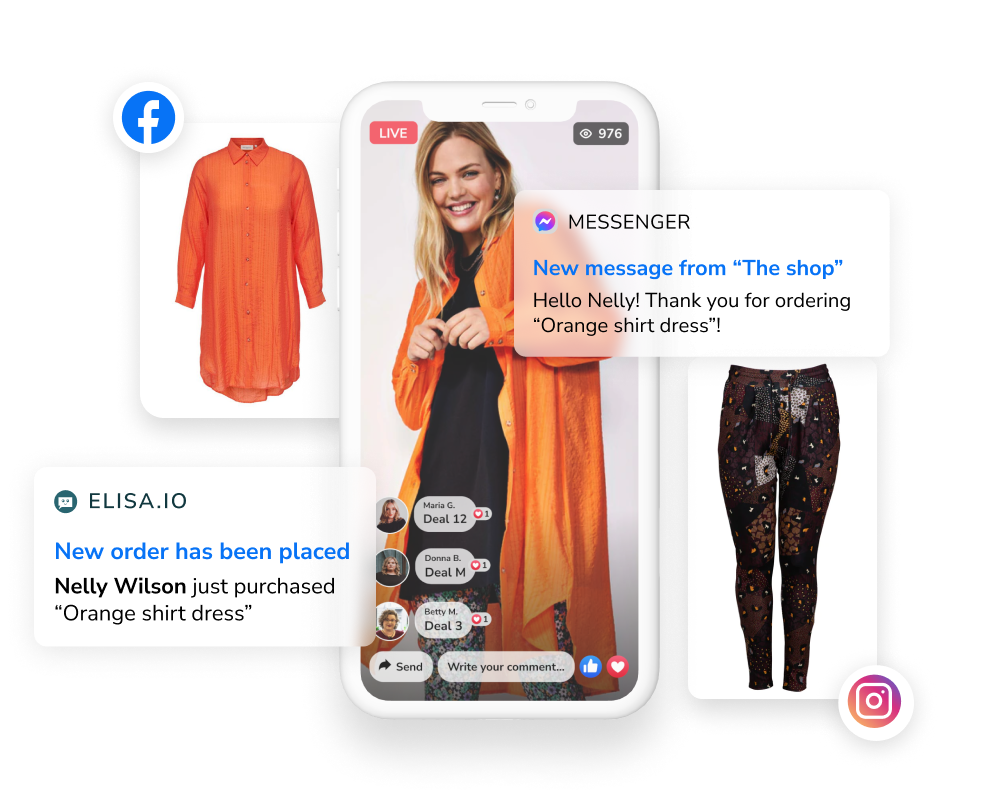 #6 Gain more followers on social media
Are you struggling to build a massive follower base on social media? We completely understand – it's a tough challenge. But live selling is a great tool for this task as well. As you sell through live shows on social media, you boost your reach tremendously. Many brands even experience that it's way more efficient way of boosting engagement than paid ads.
On top of that, you provide valuable and entertaining content on your social channels, which keeps followers interested. In other words, you're not only gaining more followers, but you're also gaining loyal followers.
#7 Get a better understanding of your customers' preferences
Most businesses do whatever they can to track and analyse what initiatives work well. And this is always a good idea. But despite of great tools and great minds, it's still a challenging task figuring out what your customers think of you.
But wait, there's a solution! With live selling, you get the truth straight from the source in real-time. Viewers are not shy, and they will tell you what they like and dislike. Both regarding your products but also your brand, offers, attitude and everything in between. And if you are curious about something specific, simply ask your viewers during your live show. You will get an immediate response – and the comment section will be on fire. Win-win.
Is it for me?
Denying the many amazing benefits of live shopping is impossible. Again and again, it has proven to make brands and retailers successful – even on a small budget. Now, you might wonder if it would benefit your business as well.
Are you a brand or retailer? Do you have +1,000 followers on Facebook or Instagram? And do you want to increase your sales and brand awareness? If you answered yes to all three questions, live shopping is probably a perfect fit for your business.
Fashion was one of the first industries to jump along the live shopping train. But today, several different industries use it as an integral part of their strategy. This includes categories such as beauty, home décor, groceries, food and drink, hobbies, electronics, and much more in between. So don't hold back. And if you're the first within your industry, just be a first mover. You can read more about what industries go live right here.
But how to get started? Good question.
The best part about live shopping is that it doesn't have to be time-consuming to be a success. There are several amazing software solutions out there such as the Billwerk+ partner Sprii that automates everything for you. That allows you to go live whenever you please without increasing your workload. Except from the fact that you'll have more orders to pack and ship – but that's a luxury problem, right?
Get started now and reap the benefits over and over again. We're rooting for you!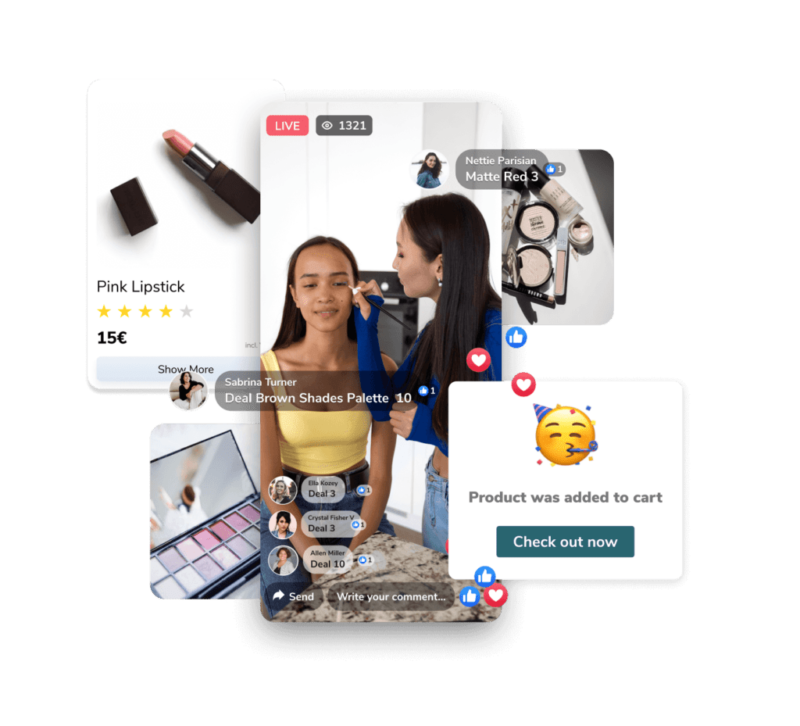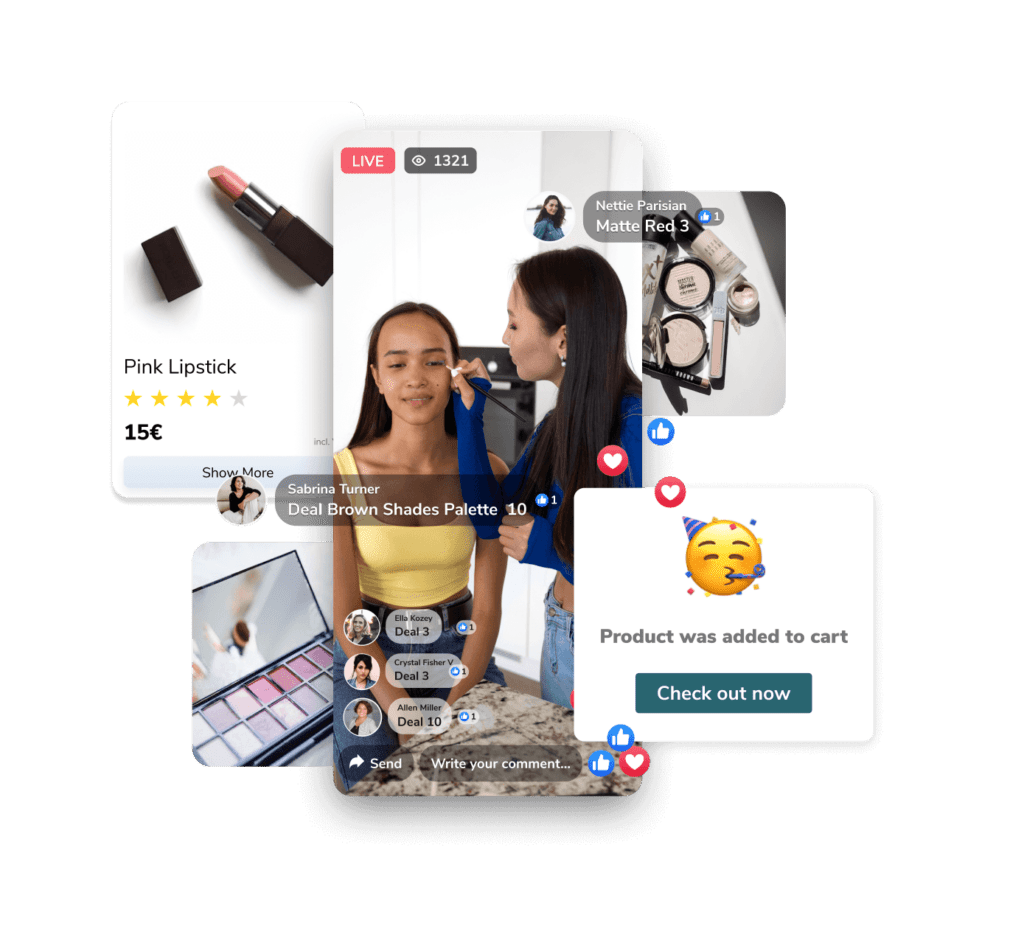 This article is a Partner's post written by Sprii. They specialise in live shopping solutions,
helping ambitious physical and digital retailers succeed with live sales on social media.
Want to know more about payments for your e-commerce?
Our experts are ready to guide you. Give us a call right now!

Contact us