DIN 5008 – Rules for business correspondence
Germany is notoriously good at setting rules. Business communication is not unaffected by this either. Of course, there are no legal guidelines on what a business letter should look like, for example, but the so-called DIN 5008 includes precisely such guidelines. Unlike a law, a guideline according to the DIN standard is voluntary, but it makes communication much easier. Where exactly is the sender, where is the salutation and how do I write the date correctly? Supposedly banal questions for which there are standardised and internationally recognised rules. In this article we explain why a tidy and guideline-compliant business letter is so important and can prevent unnecessary extra work and misunderstandings.
DIN 5008 – what do you really need to know?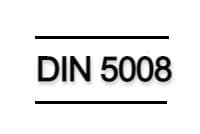 Writing and sending business letters is part of every entrepreneur's daily business. One rule that is often applied in the background for many is the so-called DIN 5008, which since 1928 has defined writing and design rules for word processing, including punctuation marks, characters, arithmetic symbols, formulae as well as the structuring of texts in documents and the structure of tables. Since then, of course, there have been a number of updates, the last comprehensive one in 1996, when design with PC word processing programs also became the subject of the standard. This also applies to invoice programs and any software that offers business letter templates.
It is important to know that DIN 5008 does not regulate the contents of a business letter, but only how it should look. Here you can find further guidelines (German Source) on DIN 5008.
DIN 5008 as an interpreter in the business world
At first glance, a guideline like DIN 5008 looks like extra work. In fact, it makes business conduct and communication between business partners much easier. Just as there is etiquette and custom in bilateral business dealings, there are also recognized rules in business correspondence. It should always be noted that deviations are of course permitted. It is not a question of a law. It is much more important for a company to equip itself with a consistent corporate identity, which can always deviate from the norm if it would otherwise counteract its own corporate philosophy.
At the same time, however, it must be designed in such a way that my counterpart understands everything correctly and there can be no misunderstandings. Seen in this light, DIN 5008 is to be understood as a translation work in the business world, so that everyone speaks the same formal language. 
DIN 5008 and Subscription Economy
A consistent and tidy business letter template is the be-all and end-all for error- and complaint-free business correspondence. The challenge in the Subscription Economy is the frequency of written communication. In the Recurring Billing, automatic, often monthly, invoices are issued. Then there is the extended correspondence.
Now imagine a form letter template that is misleading, contradictory or at least not legally sound. Letters of complaint with possible financial or even legal consequences could be the result. That is why observing the DIN rules and regulations is so important, especially for subscription companies, to ensure consistent and comprehensible business communication.
Business letter templates according to DIN 5008 can also be created at Billwerk+ to provide documents with their own business letterhead and layout. These PDF templates can be used for invoices, credit notes or reminder letters, for example.
Conclusion: DIN 5008 as an etiquette manual for everyday business writing
Entrepreneurs have a lot of business-critical rules to follow, especially in the financial and tax areas. So rules that seem rather trivial, such as those of DIN 5008, can quickly disappear from the radar. But if we see the DIN letter rules more as an aid to everyday business, it becomes clear that the application of these guidelines is merely common sense. Misunderstandings, talking past each other and, in the worst case, complaints would ultimately be the alternative. Certainly not a good alternative.